Are you looking for the security and safety of your business? Are you need a reliable commercial locksmith in Pittsburgh, PA? Look no further! Our team of skilled and experienced professionals is here to provide you with the highest quality locksmith services to keep your business safe and secure. We are committed to providing fast and efficient service, so you can get back to running your business with peace of mind.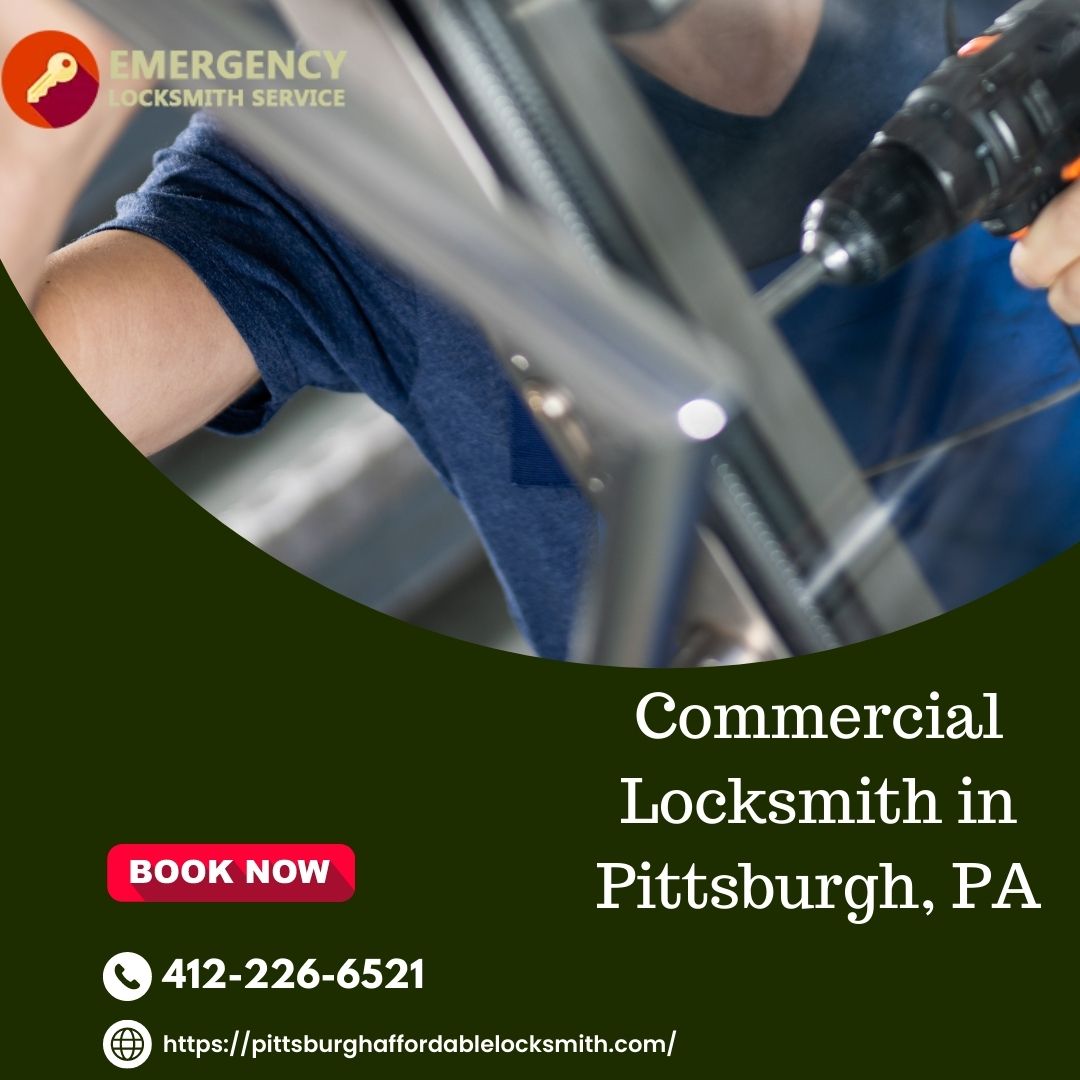 Contact us today at (412) 226-6521 to learn more and schedule your appointment.
Commercial locksmith in Pittsburgh, PA Services
Installing new locks on doors, windows, safes, and other security devices: This may involve installing new lock hardware, such as deadbolts, lever handles, or keyless entry systems. We also install lockable door handles, hasps, and other security devices to prevent unauthorized access.
Repairing or replacing damaged locks: If a lock is damaged or malfunctioning, the locksmith may be able to repair it. If the lock is beyond repair, we may recommend replacing it with a new one.
Re-keying locks to match new keys: If a business owner loses their keys or an employee leaves the company, we may be called to re-key the locks to check new keys. This involves adjusting the lock's tumblers so that a different key will operate.
Making duplicate keys: Commercial locksmiths may be able to make duplicate keys for businesses so that multiple people can have access to a building or specific areas within a building.
Installing and maintaining access control systems: These systems allow businesses to control who has access to their building or specific areas within the building. We may install and maintain keyless entry systems, card readers, and other access control systems.
Providing emergency lockout services: If an employee becomes locked out of a building or specific area, the locksmith may be called to provide emergency lockout services. This may involve using specialized tools to unlock the door or making a new key on the spot.
Installing and servicing security systems: Commercial locksmiths may also install and maintain security systems, such as alarms and surveillance cameras. We may also be able to provide advice on the best security measures for a specific business.
Master key systems: We may install Master key systems, which allows businesses to create a hierarchy of keys granting access to different building areas. This can be particularly useful for companies with multiple floors or departments. It will enable employees to access only the places they need while still allowing management access to all areas.
Keyless entry systems: Keyless entry systems allow businesses to grant access to their buildings without the need for traditional keys. We can install these systems because it can be particularly convenient for companies with high employee turnover, as they constantly eliminate the need to issue and reissue physical keys.
Trusted Commercial Locksmith in Pittsburgh, PA
At Pittsburgh Affordable Locksmith, we are committed to providing our customers with the highest service and satisfaction. Whether you need new locks installed, existing locks repaired or replaced, or emergency lockout services, our experienced and skilled locksmiths are ready to help.
We aim to ensure that every customer is delighted with our work. Because we know how important your company's safety is to you, we take all necessary precautions to ensure that the job we do is of the highest possible standard. We also offer flexible appointment times and competitive pricing to make sure that our services are accessible and affordable for all of our commercial customers.
If you need a reliable and trustworthy commercial locksmith in Pittsburgh, PA, look no further than Pittsburgh Affordable Locksmith. We are here to help you keep your business secure and your employees and customers safe.
Pittsburgh Affordable Locksmith is the Best Commercial Locksmith in Pittsburgh, PA
Wide range of commercial locksmith services: Pittsburgh Affordable Locksmith offers a wide range of commercial locksmith services, including lock installation, repair and replacement, key duplication, and safe repair and installation. This means they are equipped to handle all your commercial locksmith needs, no matter how big or small.
Fast response times: When you have a lock or security issue at your commercial property, you don't have time to wait around. Pittsburgh Affordable Locksmith understands this, and that's why they offer fast response times to all of their commercial clients. You can trust that they will be there when you need them most.
Highly trained and experienced technicians: The technicians at Pittsburgh Affordable Locksmith are highly trained and experienced in all aspects of commercial locksmith work. They are knowledgeable about the latest technologies and techniques and can provide high-quality artistry for your commercial locksmith needs.
Competitive pricing: Pittsburgh Affordable Locksmith is dedicated to providing the best possible service at affordable prices. They offer competitive pricing for all of their commercial locksmith services, making them an excellent value for Pittsburgh, PA, businesses.
24/7 availability: Emergencies can happen anytime, and when they do, you need to know that you can count on a reliable commercial locksmith to help. Pittsburgh Affordable Locksmith is available 24/7 to handle any commercial locksmith emergency.
Contact Pittsburgh Affordable Locksmith
It is crucial to have a dependable and trustworthy commercial locksmith that you can turn to for any of your company's locksmithing needs if you are the owner of a company situated in the Pittsburgh, Pennsylvania, area. Pittsburgh Affordable Locksmith is the best choice for commercial locksmith services in the Pittsburgh area, offering a wide range of services, fast response times, highly trained and experienced technicians, competitive pricing, and 24/7 availability.
To contact Pittsburgh Affordable Locksmith for your commercial locksmith needs, you can call us at the phone number provided on our website. Our friendly and professional customer service representatives will be happy to answer any questions and schedule an appointment for you. You also can fill out the contact form on our website, and then someone from the team will get in touch with you as quickly as they can.
No matter what your commercial locksmith needs may be, Pittsburgh Affordable Locksmith has the skills and expertise to get the job done right. Please feel free to get in touch with us concerning any of your commercial locksmith needs in Pittsburgh, Pennsylvania.